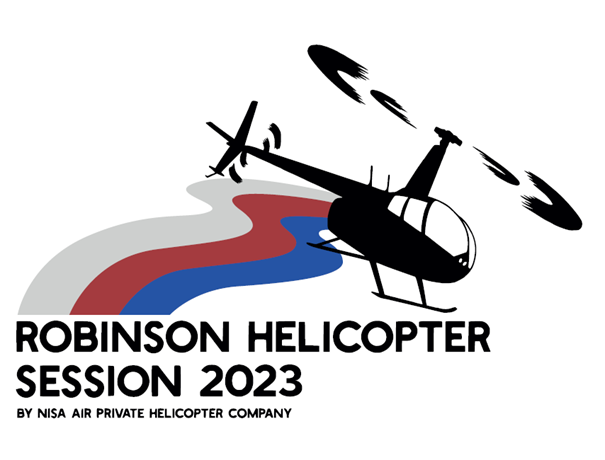 Dear friends,
two years after the successful first year, we have prepared another Robinson Helicopter Session 2023 for you.
We are looking forward to welcome you on Saturday, May 20, 2023 from 10:00 at NISA AIR at Mladá Boleslav Airport.
During the day you can enjoy the interesting program including its highlight: the presentation on safety and operation of Robinson Helicopters by factory pilot Mr. Bob Muse. For example, you can also look forward to the presentation of new products from the Robinson Helicopter Company or a practical comparison of PED - Personal Electronic Devices for helicopter flying presented by Ing. Radim Malátek.
In connection with Robinson Helicopter Session 2023 we have prepared the first ever European Robinson Pilot Safety Course to be held in the Czech Republic. The course for pilots of all categories and experience will take place from Sunday, May 21 to Tuesday, May 23, 2023 at the airport in Mladá Boleslav. More information you can find HERE.
All-day refreshment in a hangar is arranged by Faldo catering. For those interested in the gourmet specialties of chef Miroslav Grusz, we offer the possibility of booking a private table at MG Restaurant.
Robinson Helicopter Session 2023 is the private event so we kindly ask all the participants to register through our registration form to get the entrance permission and more details. The detailed program of the event will be published at our websites.
The NISA AIR team.
Robinson Helicopter Session 2021
On September 17, 2021, NISA AIR hosted the first ever gathering of Robinson helicopter owners, pilots and enthusiasts in Europe. Very modern facility in Bezdecin near Mladá Boleslav in Central Bohemia offered not only a spectacle of several machines of this American manufacturer but also rich accompanying program.
During the morning part the participants could experience several lectures, including one by the legend of helicopter flying in Bohemia, Mr. Josef Rýdel. During afternoon visitors had opportunity to take a ride in ŠKODA cars from Autokomplex Mencik to the nearby Metodej Vlach Aviation Museum or try mini hand massages from the therapist from Chateau Mcely Hotel. Lovers of aviation clothing also enjoyed presentation by Eeroplane fashion company. Technically oriented guests were delighted by demonstration of additional tanks by TRASO and handling equipment by Belet company. The aroma of grilled meat and other specialties from Faldo catering filled the whole day.
The design team from ŠKODA AUTO then added special reminding tourists of a ten-year-old feat from the Top Gear car show: they parked a Robinson R22 on the roof of a ŠKODA KODIAQ and this static display dominated the area in front of the hangars, where it was kept company by the R66 Turbine and the R22, equipped with a hook for working with the suspension.
Many pilots also took the chance to fly Robinson's flagship R66 Turbine which is operated directly by NISA AIR under OK-MLD registration.
An important factor in the success of the event was the weather which was kind enough to allow us to organize enjoyable day for all involved as evidenced by the many positive comments. In total there were over 20 helicopters (two of which were from different manufacturers) and around a hundred visitors.
We hope that in 2023 next Robinson Helicopter Session planned will be at least as successful as this year.